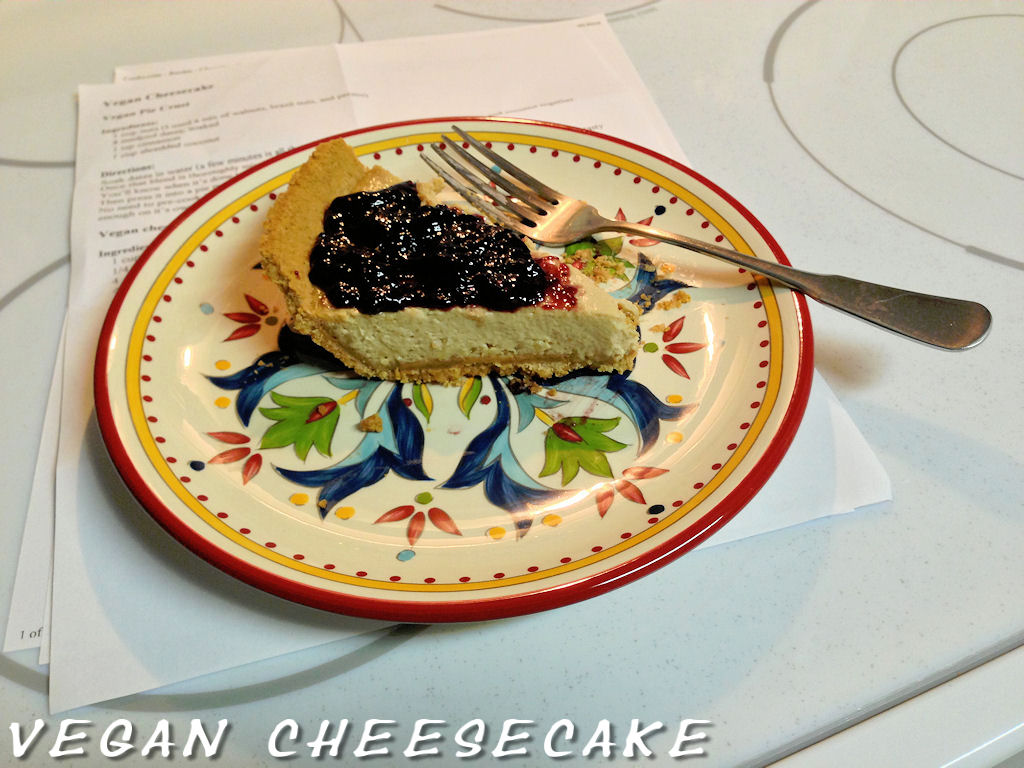 Notes: Nova made this using a store bought crust. We both thought it was pretty good. Nova cooked at 20 minutes at 350, then 40 minutes at 250.
Vegan Pie Crust
Ingredients:
1 cup nuts (I used a mix of walnuts, brazil nuts, and pecans)
8 medjool dates, soaked
1 tsp cinnamon
1 cup shredded coconut
Directions:
Soak dates in water (a few minutes is all they need). Meanwhile, blend nuts, cinnamon, and coconut together.
Once that blend is thoroughly mixed, add in the dates (without the pits of course).
You'll know when it's done because it will go from a crumble to a sticky lump.
Then press it into a pie mold and you're done!
No need to pre-cook it. It's ready to go just as it is. Just add the pie insides! Truthfully, the raw crust was tasty enough on it's own, so I took the extra and made it into balls.
Vegan cheesecake
Ingredients:
1 cup soaked cashews
1/4 block (~4 oz.) firm tofu
4 oz. vegan cream cheese
4 oz. vegan sour cream
2/3 cup maple syrup
1 tbsp lemon juice
1 tbsp vanilla extract
Directions:
Drain cashews and add them to the blender with the rest of the ingredients.
Pulse until everything is perfectly pureed.
Then pour into the pie crust.
Spread it evenly, making a nice swirl with the spatula.
Then bake for 20 minutes at 350, then 20 minutes at 250 (so the crust doesn't burn).
Source: Hungry Hungry Hippie